Syringes, stickers and cotton swabs are pictured during a COVID-19 vaccination event at the Central Davis Senior Activity Center in Kaysville on Tuesday, July 6, 2021. Utah reported 668 new cases on Thursday — the highest daily increase since mid-March. (Spenser Heaps, Deseret News)
SALT LAKE CITY — The Utah Department of Health reported 668 new COVID-19 cases in the state for Thursday — the most new cases in a single day in nearly four months.
Thursday's new case total is the highest since 699 cases were reported on March 17. Two more deaths and 5,606 more vaccinations were also reported Thursday.
The rolling seven-day average for positive cases in the state is now at 379.
Thursday's high number of new cases comes as Utah is in the middle of a COVID-19 surge that has been attributed to the spread of the highly contagious delta variant among unvaccinated Utahns.
Utah surpassed the goal this week of getting 70% of its adult population inoculated with at least one dose of the vaccine. But a handful of individual Utah counties still lag below 60% in that metric, according to health officials.
Health care professionals on Wednesday pleaded with unvaccinated Utahns to reconsider getting their shots amid the state's current spike of the disease.
"We know what it takes to slow the spread and stop the spread of COVID-19," Utah Department of Health deputy director Dr. Michelle Hofmann said at a Wednesday news conference. "Just think about our loved ones and the risk that this surge is posing to all of them"
A total of 2,895,700 vaccine doses have been administered in the state, up from 2,890,094 Wednesday. About 49.8% of Utah's total population, a total of 1,596,456 residents, has now received at least a first dose of the vaccine, according to the health department. About 44.4% of the population, or a total of 1,423,411 Utahns, is now fully vaccinated.
Among Utahns age 12 and older, who are currently eligible to receive the vaccines, 61.6% have at least a first vaccine dose and 54.9% are fully vaccinated, the health department reported.
Also on Thursday, the health department reported that 12 Utah counties are now designated as high transmission areas for COVID-19 under the state's transmission index system. That is the most counties rated at that level since March.
The counties rated at the high transmission level this week are Box Elder, Carbon, Duchesne, Iron, Juab, Millard, San Juan, Sanpete, Sevier, Tooele, Uintah and Washington.
Cache, Davis, Emery, Grand, Morgan, Salt Lake, Summit, Utah, Wasatch and Weber counties are rated at the moderate transmission level, according to the health department. All other Utah counties are at the low transmission level.
Fewer than 60% of adults have received at least a first vaccine dose in 11 out of those 12 high transmission level counties, the health department said.
"The COVID-19 pandemic is not over," health officials warned on Twitter. "But the vaccine can end it. If you haven't been vaccinated, now is the time."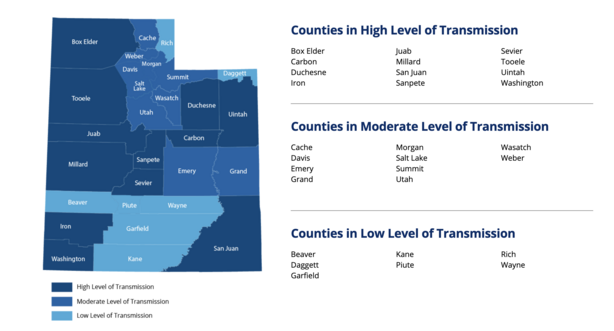 The positive test rate per day for the last week calculated with the "people over people" method now stands at 11.9%. The positive test rate per day for that time period calculated with the "test over test" method is now 8%.
There are 230 COVID-19 patients currently hospitalized in Utah, including 92 in intensive care, state data shows. About 79% of Utah's intensive care unit beds are now occupied, and 82% of ICU beds in Utah's 16 referral hospitals are full. Those numbers indicate that there is now a major strain on Utah's healthcare system.
Thursday's new numbers indicate a 0.2% increase in positive cases since Wednesday. Of the 2,821,170 people tested for COVID-19 in Utah so far, 14.8% have tested positive for COVID-19. There have now been 5,149,390 COVID-19 tests conducted in Utah since the pandemic began, up 8,350 since Wednesday. Of those, 4,722 were tests of people who hadn't previously been tested for COVID-19.
Both deaths reported Thursday were Salt Lake County men who were not hospitalized when they died, the health department reported. One was between the ages of 45 and 64 and the other was over the age of 85, according to the health department.
One of the deaths reported Thursday occurred before June 1 but was still being investigated by state medical examiners, the health department said. They did not specify which death occurred before June 1.
Thursday's totals give Utah 418,321 total confirmed cases, with 17,727 total hospitalizations and 2,389 total deaths from the disease.
On Wednesday, health officials implored parents to protect their children from the disease.
Health officials have "minimized" the impact of COVID-19 on children throughout the pandemic, Hofmann said.
"It is not a non-issue in children," Hofmann said during the Wednesday news conference. "It is a disease that occurs in children."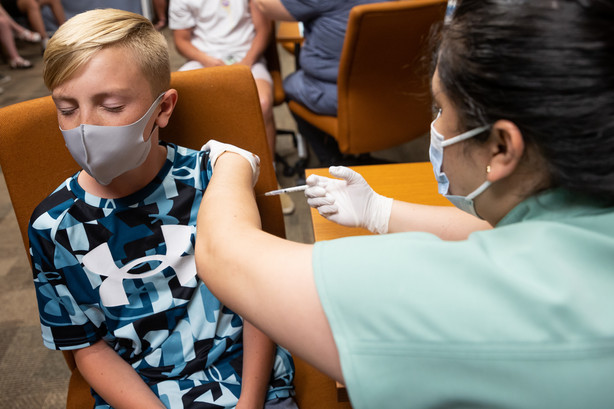 Nearly 81,000 Utah kids ages 18 and younger have been infected with COVID-19 during the pandemic so far, according to Hofmann, who is a pediatrician.
Out of those, 729 kids have been hospitalized, including 45 who were admitted to intensive care. Two Utah children have died from the disease, Hofmann added.
Those hospitalization rates are far higher than the common flu, Hofmann said. It would take several flu seasons to cause as many child hospitalizations as COVID-19 has in just 18 months, she added.
"The fact of the matter is children are impacted by COVID-19," she said.
About 100 Utah kids who got COVID-19 went on to develop MIS-C, or multisystem inflammatory syndrome, Hofmann said. The condition is serious and could result in death, she said.
"This is a serious disease for children as well," Hofmann said.
×
Related Stories
More stories you may be interested in