Gov. Spencer Cox answers questions during a COVID-19 briefing at the Capitol in Salt Lake City on Thursday, July 1, 2021. (Rick Egan)
SALT LAKE CITY — As hospitals continue filling up and the highly transmissible COVID-19 delta variant is becoming more prominent, Utah leaders are sounding the alarm about the state's current situation.
"If you're unvaccinated, you should be worried this Fourth of July," Gov. Spencer Cox said during a Thursday news conference.
"You should be very worried."
The good news though, he added, is that people can still get vaccinated before the upcoming holiday weekend.
Thursday's news conference comes at a time when Utah is experiencing a COVID-19 surge that has led to an increase in hospitalizations, putting a strain on Utah's health care system. On Wednesday, Utah reported its highest daily increase in COVID-19 cases since April.
Amid the current spike — which is being driven by cases, hospitalizations and deaths almost entirely among unvaccinated people — the Utah Department of Health reported 540 new cases Thursday, in addition to four more deaths and 5,976 more vaccinations.
Models predict that the state could be reporting between 1,000 and 1,200 cases per day by late August, health officials said Thursday. And cases have traditionally spiked after holiday weekends throughout the pandemic.
But there's a difference this time around: A "miracle vaccine" is available that has the potential to stop the pandemic in its tracks, Cox said, adding that the state is continuing to work on making vaccines as easy, accessible and comfortable for Utahns who still haven't gotten it.
"I am tremendously optimistic," the governor said. "Every time we've had cases come up, cases have gone down as people respond to those threats. This is the first time — the first time — that we have had cases climbing when there is something that can stop them completely from climbing, and so I'm optimistic about that."
More information on how to get vaccinated is available at coronavirus.utah.gov/vaccine.
---
Lt. Gov. Deidre Henderson, Utah Department of Health deputy director Dr. Michelle Hofmann and University of Utah associate chief medical officer for inpatient services Dr. Kencee Graves joined Utah Gov. Spencer Cox at a news conference Thursday morning.
Watch the replay of the event below.
---
Utah close to goal of 70% adults vaccinated by July 4
About 64.8% of Utah adults have now received at least a first dose of the vaccine, Cox said.
However, there are an additional 115,000 Utah adults who have at least their first dose who have had those doses administered by federal agencies such as the Department of Defense and the Department of Veterans Affairs, he said. Data for those vaccinations are reported separately from the state's vaccination data but taking those adults into account puts Utah at about 69.8% of all adults having at least one dose as of Thursday, Cox said.
He pointed out that the 70% goal is somewhat arbitrary, though.
"There's nothing magical about that 70% threshold or number. … We would rather have 99% or 100%," Cox said. "Even if we do hit 70% it doesn't mean that's the endgame."
The state will keep pushing to get as many people vaccinated as possible, he added.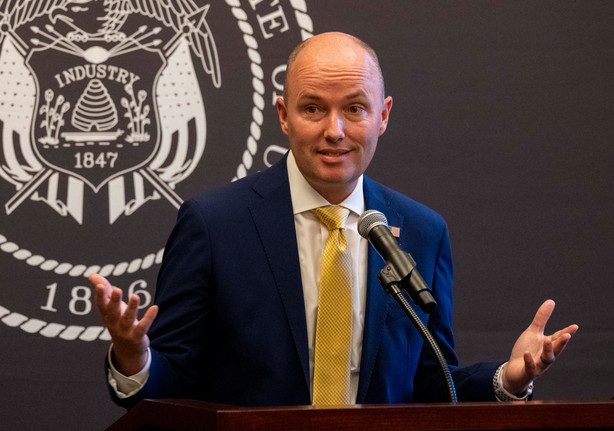 Cox said it's amazing to watch the "mental gymnastics" people go through trying to convince themselves that it's more dangerous to get the vaccine than to not have it.
Since May, 93% of new COVID-19 cases have been unvaccinated people, Cox said. About 93% of hospitalizations are unvaccinated people, as well as 95% of deaths, he said.
The current situation in Utah's hospitals is getting "uncomfortable," Cox said. The 257 people hospitalized with the disease Thursday is the highest number since 242 hospitalizations were reported on Feb. 19. On the last day of May, there were only 130 hospitalized COVID-19 patients.
"It's very important that we don't overwhelm our hospitals right now," Cox said.
People should take extra care when recreating this summer, because burns, near drownings, ATV accidents and other summer recreation-related injuries can take up space in hospitals that facilities can't spare right now, said Dr. Kencee Graves, University of Utah associate chief medical officer for inpatient services.
Several people have recently been forced to wait for a bed in the University of Utah Hospital's intensive care unit, Graves said. Every COVID-19 patient currently in the ICU is unvaccinated, she added. One patient, who is under the age of 30, has been hospitalized since April 9.
"No one is safe from COVID unless you're vaccinated," Graves said. "We need you to stay safe."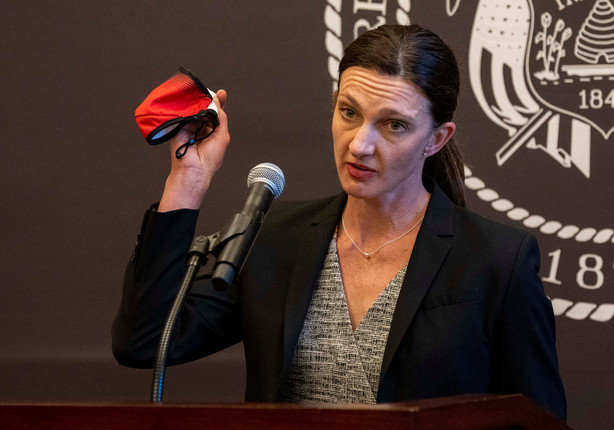 Utah continues making progress vaccinating vulnerable populations in the state, added Lt. Gov. Deidre Henderson. About 89% of Utahns ages 65 and older have received at least a first vaccine dose, and about 82% are fully vaccinated, she said.
State leaders had set a goal to see at least 25% of Utahns age 12-15 have at least a first dose of the vaccine by July 4, but Utah has surpassed that goal, Henderson said. About 57,000 kids in that age group, about 26.8% of the population, have now received at least a first dose, she said.
"We're really proud of the parents who are getting their children vaccinated," Henderson said.
A total of 370 businesses or other organizations have made requests to host mobile vaccination clinics since the state made that process available in March. Since then, the state has completed 287 of those, and is working on scheduling the rest, she said.
"Thank you to the organizations who are joining the cause," Henderson said.
540 new COVID-19 cases
The rolling seven-day average for positive cases in the state is at 384 as of Thursday, according to the health department.
The positive test rate per day for that time period calculated with the "people over people" method is now 9.9%. The positive test rate per day for that time period calculated with the "test over test" method is now 6.6%.
There are now 257 COVID-19 patients currently hospitalized in Utah, including 75 in intensive care units, state data shows. Statewide, about 77% of Utah's ICU hospital beds are now occupied, including about 82% of the ICU beds in the state's 16 referral hospitals. About 60% of non-ICU hospital beds are now occupied in Utah.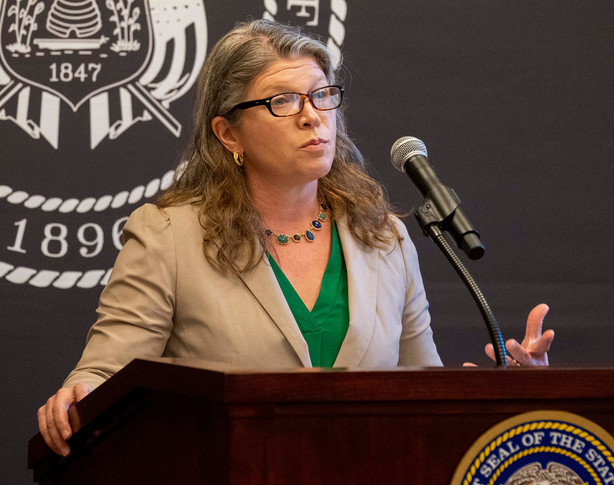 A total of 2,865,352 vaccine doses have been administered in the state, up from 2,859,376 Wednesday. A total of 1,580,210 Utahns — or about 49.3% of the state's population — have now received at least one dose of the vaccine. A total of 1,407,233 Utahns — about 43.9% of the population — are now fully vaccinated, according to the health department.
About 61% of Utahns age 12 and older, who are currently eligible to receive the vaccines, have received at least one vaccine dose, and 54.3% are fully vaccinated, state data shows.
The new numbers indicate a 0.1% increase in positive cases since Wednesday. Of the 2,799,179 people tested for COVID-19 in Utah so far, 14.9% have tested positive for COVID-19. The number of total tests conducted in Utah is now 5,112,356, up 7,565 since Wednesday. Of those, 4,140 were tests of people who hadn't previously been tested for COVID-19, the health department reported.
The four deaths reported Thursday were:
A Davis County man between the ages of 45 and 64 who was not hospitalized when he died.
A Salt Lake County man, 65-84, who was hospitalized when he died.
A Salt Lake County woman, 45-64, not hospitalized.
A Tooele County woman, 25-44, hospitalized.
Thursday's totals give Utah 415,679 total confirmed coronavirus cases, with 17,526 total hospitalizations and 2,375 total deaths from the disease.
×
Photos
More stories you may be interested in